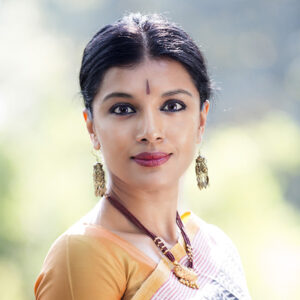 Aparna Ramaswamy is Co-Artistic Director of Ragamala Dance Company with her choreographic partner (and mother) Ranee Ramaswamy.
Described by The New York Times as "thrillingly three-dimensional… rapturous and profound," Aparna is a recipient of a Guggenheim Fellowship, Research Fellowship at the Rockefeller Foundation Bellagio Center (Italy), Residential Fellowship at the Bogliasco Foundation Center (Italy), Doris Duke Performing Artist Award, and Joyce Award, among others, and was selected as one of Dance Magazine's 25 to Watch for 2010. Aparna is an empaneled artist with the Indian Council for Cultural Relations (ICCR) and her solo work, with live music, has toured the U.S. and India with support from the National Dance Project and USArtists International. In 2018, she premiered a new solo work commissioned by the American Dance Festival as part of Wondrous Women: Solos Created by the Artists for Themselves, featuring Aparna alongside Camille A. Brown, Michelle Dorrance, Rhapsody James, and Yabin Wang. In 2019, Aparna's new work with composer/violinist Colin Jacobsen was commissioned by and for the Silk Road Ensemble.
Ranee and Aparna's forthcoming work, Fires of Varanasi, is commissioned by the Kennedy Center (Washington, D.C.), the Harris Theater (Chicago), the Hopkins Center for the Arts at Dartmouth College, The Soraya at Cal State Northridge, Northrop at the University of Minnesota, the Gogue Performing Arts Center at Auburn University, Meany Center at the University of Washington, and American Dance Festival, and will premiere at The Soraya (Los Angeles) in October, 2020.