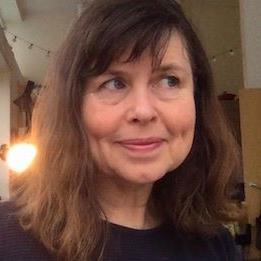 Janis Hart is an Edinburgh-based artist, designer and filmmaker who graduated in Fine Art and Theatre Design from the Slade School of Art, University of London. Her freelance artistic practice includes site-specific installations and stage designs for theatre, dance and opera productions, as well as leading contemporary art and drama workshops.
She has undertaken artistic residences at Plymouth Theatre Royal, Worcester Swan Theatre, Derby Playhouse, Theatr Powys, London Bubble Theatre and South Hill Park Arts Centre, Bracknell. She has worked with a range of organisations across Scotland including Scottish Opera, National Theatre for Scotland, Dundee Rep, Company Chordelia, Byre Theatre, St Andrews and Platform Theatre, Glasgow. Her most recent projects include The Chosen – as part of her ongoing collaboration with choreographer Kally Lloyd Jones of Company Chordelia; Flock of Ravens sculptural installation and Whisky Library – ma mash up of reclaimed Victorian furniture, several hundred bottles of whisky and a model train!
Some of her large-scale participatory projects include On Common Ground – set design for a 17-meter diameter Earth Stage and a large-scale performance by Citizens Theatre Glasgow at Gorbals Rose Garden as part of Commonwealth Games 2014; Black Sun Over Genoa – working with all 100+ participants to create authentic costume, character, props and set for a large scale community play by Theatre Workshop Edinburgh about the death of a protestor at G8; Transform – lead artist, designer and community facilitator for a site specific performance by National Theatre of Scotland at Methil Docks, Fife.
Peace Cranes commission by Peace & Justice Scotland is her largest site-specific installation to date.