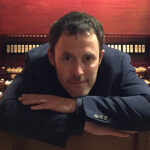 Dr. Anthony Hammond is a critically acclaimed English concert organist, composer and musicologist. His principal organ studies were with Roger Fisher and David Briggs in England, and with Dr. Naji Hakim in Paris. As a performing and recording artist in Europe and the USA he is known particularly for his specialism in French Romantic and 20th century organ music, and as an improviser.
He has recorded a number of CDs both in England and France for English, German and American labels (Priory, Ifo Classics, Raven), has broadcast on radio in the USA and for the BBC, and is in increasing demand for his improvised accompaniments in concert to classic silent movies.
As a musicologist he writes extensively on organ music, publishing in many leading journals. His book on Pierre Cochereau, one of the 20th century's greatest French organists, grew out of PhD studies at the University of Bristol and was published worldwide in 2009 by the University of Rochester Press, New York. He has transcribed a number of Cochereau's improvisations from the original recordings, and the scores of some of these are published by J. Butz Musikverlag, Bonn. He is currently engaged on a project to record the complete organ works of the little-known 20th century French composer Léonce de Saint-Martin.
His church career has included appointments at Chester Cathedral, the church of St. Mary Redcliffe in Bristol, Bristol Cathedral, and Cirencester Parish Church where, in addition to his work as Director of Music and Organist, he is also the founder and artistic director of the Cirencester International Organ Festival. Anthony came to live in Scotland In May 2019,  through a contract as Director of Music & Organist at St John the Evangelist, Princes Street, Edinburgh. He is currently composing new work.