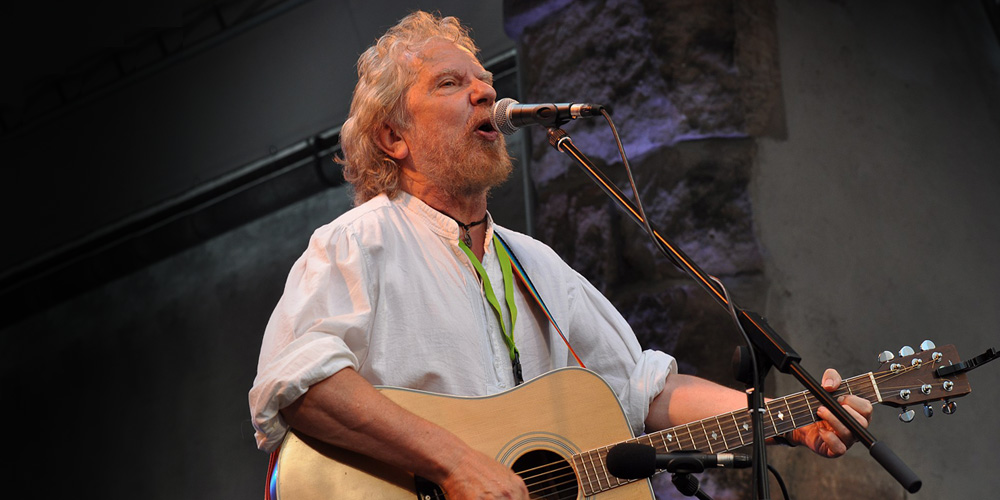 An Evening of Music and Conversation with Northern Irish Peace Activist Tommy Sands
This is an online event
Join us for an entertaining night of music and chat in the company of renowned peace activist and artist Tommy Sands. Tommy will reflect on his life of peace building through music and in conversation with recent theatre collaborator Robert Rae. This night will be all about celebrating music and its ability to guide us through a journey towards peace-building.
Tommy Sands' iconic and best known song is There Were Roses.  Recounting how Allan Bell (name changed), a Protestant friend of Sands', was murdered in Newry by Republican paramilitaries, it goes on to tell the tale of  loyalist paramilitaries that "prowled round the Ryan Road" for a Catholic to kill in retaliation before, ironically, selecting Sean O'Malley (name changed), a good friend of both the Protestant victim and Sands. It was first recorded by Robbie O'Connell with Mick Moloney and Jimmy Keane as the title track on their first album. Tommy Sands also recorded his own version as the opening track of his 1985 album Singing of the Times. The song has also been recorded by Joan Baez, Kathy Mattea, Dolores Keane, Sean Keane, Frank Patterson, Paddy Reilly, Dick Gaughan, The Dubliners, Cara Dillon, Lisa McHugh and many others. It has also been translated into many languages and is currently included in the English language syllabus in German secondary schools.
In Belfast, during the depths of The Troubles in August 1996, Sands organised a 'Citizen's Assembly' which included many of Ulster's top artists and literary figures
In December 2002 Sands persuaded the Members of the Northern Ireland Assembly to record a special 'Christmas musical party' for his weekly radio show. As many members sang with him on stage David Ervine, the leader of the Loyalists remarked "Tommy Sands is the only man, without a private army, who can intimidate me." The radio show received a special award at the World Festival of TV and Radio in New York.
In September 2008 Tommy Sands was invited to perform at the Library of Congress with his daughter Moya and son Fionán, as part of the Rediscover Northern Ireland Program. The event was co-sponsored by the Arts Council of Northern Ireland and the American Folklife Center.
In June 2010 Sands accepted the invitation of Palestinian and Israeli activists conducting a joint campaign at the neighbourhood of Sheikh Jarrah in East Jerusalem, to come and perform at a rally held to protest Israeli settlers evicting Palestinian Sheikh Jarrah residents and taking over their homes.
Ireland's Nobel winning poet Seamus Heaney spoke of "the airiness and heartsomeness" of Sands' work. "You feel you can trust the singer as well as the song", he said, "his voice is at ease, it is not drawing attention to itself and yet, for that very reason it demands attention naturally."
this event is free, suggested donation £4.