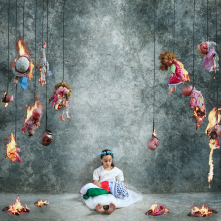 Photography under Siege – The Work of Mahmoud Al Khurd"
Mahmoud al Khurd is one of the most creative photographers coming out of Palestine today. His work represents a unique take on life under the siege that is Gaza today.
Images of Palestine as presented by the popular media routinely portray Palestinians as victims or terrorists. Mahmoud al Khurd presents a much more nuanced view of Palestinian life under Israeli oppression.He explores notions of freedom, loss, and longing through the lens of a photographer who has spent his whole life in Gaza.
A former Fulbright scholar, and winner of numerous photography prizes, Mahmoud will be joining us for a live Q&A during the course of the exhibition,which is sponsored by the "Network of Photographers for Palestine".