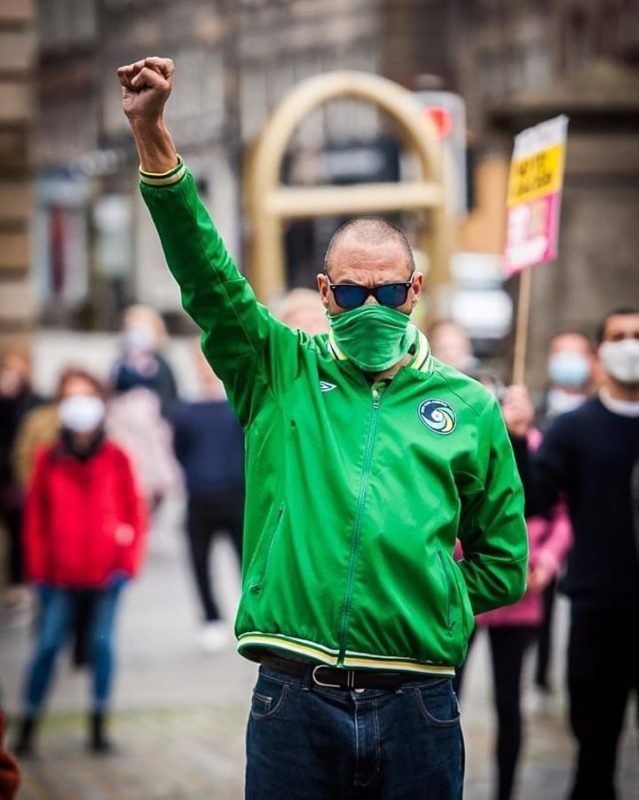 Joseph Malik has been fighting against racism since the day he was born being abandoned at the hospital by his white mother, being painted white aged 5. Then at age 14 being beaten close to death by 4 police officers and enduring decades of abuse and beatings in Glasgow.

He then moved to Edinburgh in the early 90's where he began a career in music where he set up roots in his beloved Leith opening a recording studio with the 1st Scottish based hip hop group Blackanized, who stood against racism in their lyrics and created live performances in Clubs in Edinburgh. They then went on to set up Yush Records which focused on young black artists and the highlights of that movement got the attention of James Lavelle, label boss of Mo Wax records. Mo Wax released 'Miles Out of Time' (1994), on the now groundbreaking HEADZ album. 
Blackanized then went on to sign for the Stereo MC label Response Records releasing their biggest record 'Crackpipe'. The hip hop duo Blackanized, which was Calvin Nuttal and Joseph Malik, disbanded in 1998. Malik took a few years off to focus on songwriting and he was signed by Rainer Trüby for his first solo album singing the songs about his childhood. And in 2002 legendary German label Compost records released a string of Joseph Malik singles and 2 albums. Both 'Diverse' and 'Aquarius Songs' received critical acclaim worldwide.
Joseph would then take another break from music and return 15 years later being signed by Jo Wallace of Ramrock Records due to the friendship he had with her husband Ashley Beedle, who Joseph looked up to as a mentor. Ramrock Records released 'Diverse Part 2' (Sept 2018)  to worldwide critical acclaim with full backing from Craig Charles on his BBC 6 Music show plus Album Of The Month from Gilles Peterson. 
Joseph also began performing live again, forming a group based around long-time collaborators David Donnelly, Stevie Christie and Chris Greive. This 'Easter Road Northern Soul Band' then grew into the music collective Out Of The Ordinary, encompassing 3 generations of local musicians. Out Of The Ordinary is a hive mind of filmmakers, musicians, producers, and Irvine Welsh, who wrote the liner notes for the album 'Stranger Things Have Happened' (Aug 2019) telling the story of the record in words and perfectly matching the music! The album 'Stranger Things…' is currently in the running for Scottish Album Of The Year Awards 2020.
Now with the rise of Black Lives Matter Joseph is finishing his new album 'Diverse Part 3' documenting this year, 2020, a year that changed everything for everyone all over the planet! Malik presents songs of protest on this last solo record (due for release early 2021) then will spend more time working for Black Lives Matter and to make sure that no kids grow up the same way he did.