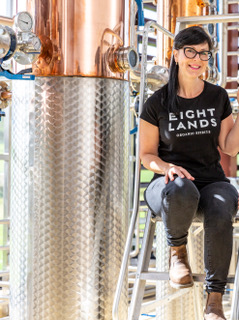 Meeghan has over 25 years in the drinks industry. During this time, she has travelled the world working in the business that she is passionate about: the production of spirits, wine and beer.
Leaving her homeland Canada in 1990, she travelled to Japan – it was there that she was introduced to the world of drinks when she landed a job learning to make Sake.
Following this, Meeghan gained a wide range of experience within the wine and spirits trade in the UK by working in retail, import/export, and buying. At this time, she was also invited to join the highly esteemed IWSC & IWC judging panels.
In 2011 she obtained her degree in viticulture in and oenology at Plumpton College, which lead her to travel again – this time to the Mosel region of Germany, as well as France and New Zealand – to put her studies into practice as a winemaker.
After mastering the grape, she trained in the grain – becoming first a brewer, then a distiller and consultant within the beer and spirits industries. Meeghan received merit in the General Certificate in Distilling with the IBD concentrating on the production of Whisky and is currently the Head of Distilling and Operations at Glenrinnes Distillery in Speyside.