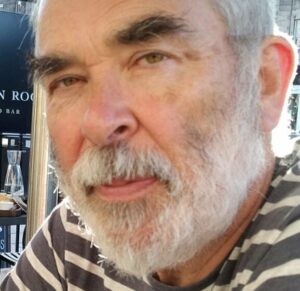 Pete's journey through theatre began as a young lighting specialist at the then brand new Royal Northern College of Music before moving on to being Production Manager for the Sixty Nine Theatre Company at the Manchester Royal Cotton Exchange before heading to Scotland " for a few months ." He never returned. His career includes being Technical Director for Scottish Ballet and for the Edinburgh International Festival. His passion for developing found spaces returned him to Glasgow to head up the transformation of the Old Transport Museum – initially just for Peter Brooke's Mahabharata – but under his management it was expanded and transformed into Tramway to deliver multiple and significant roles in Glasgow's extraordinary year as European City of Culture 1990.
Pete took those theatre skills to Glasgow Museums to head up their emerging Creative Services department. And to build and adapt yet more spaces – St Mungo's Museum of Religious Art, GOMA and Glasgow City of Architecture and Design.
Pete then returned to focus on theatre productions at the Glasgow Arches, G12, Gilmorehill, the Glasgow Botanics ( Bard in the Botanics ) Theatre Workshop, Edinburgh. He also joined the staff of the RSAMD in Glasgow and then Queen Margaret University in Edinburgh to share that love and experience of performances In summer 2011 he was invited to visit the empty echoing halls of the former Dick Vet School in Edinburgh. And the phenomena of Summerhall was launched. And in 2016 he joined Michael Earley as Programme Director and creator of the Upper Church in the far corner of Summerhall to present award winning shows for The Rose Bruford College of Performing Arts.