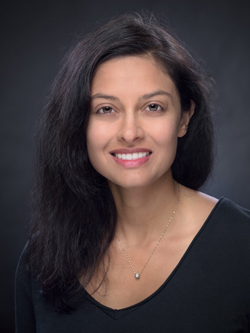 Devi Sridhar is Professor of Global Public Health, Head of the Global Health Governance Programme Usher Institute of Population Health Sciences and Informatics at Edinburgh Medical School, University of Edinburgh.
Devi Lalita Sridhar (born 1984) is a Professor and Chair of Global Public Health at the University of Edinburgh . Her research considers the effectiveness of public health interventions and how to improve developmental assistance for health.
She was born and raised in Miami, Florida in an Indian family. In 2003, at the age of eighteen, she enrolled in an honours medical programme and earned a bachelor's degree in biology at the University of Miami . She says she was inspired by her grandmother, who raised her children in the 1960s before completing her DPhil and writing several books. Sridhar was a graduate student at the University of Oxford , where she was awarded a Rhodes Scholarship . Her DPhil dissertation considered malnutrition in India. She turned down a funded position at Harvard Law School to join the University of Oxford Global Economic Governance Programme in 2006, where she was awarded both MPhil and DPhil degrees.
She serves on the World Economic Forum Global Agenda Council on the Health Industry. She started to research the rise of public–private partnerships in global health governance, and how, whilst they are crucial to combat infectious disease , their non-transparent accountability and effectiveness should be investigated. International organisations are redirected by specific incentives, and the asymmetry of information sharing between member states and groups like the World Health Organization or World Bank limits their impact. She worked with Chelsea Clinton and used principal agent theory to study the Global Fund to Fight AIDS, Tuberculosis and Malaria and the GAVI Alliance . She worked with Julio Frenk on the need for an independent and impartial World Health Organization .Sridhar investigated the international response to the West African Ebola virus epidemic , and what reforms were needed to heal a global system for outbreak response. She partnered with the Harvard Global Health Institute and London School of Hygiene & Tropical Medicine to independently analyse the global response. She established ten essential reforms to prevent and respond to the next pandemic. In 2014, at the age of thirty, Sridhar was promoted to full Professor and Chair at the University of Edinburgh and became the founding Director of the Global Health Governance Programme. She works between Edinburgh Medical School and the Blavatnik School of Government.
Sridhar compiled the first Wellcome Trust Open Research Collection on the topic of Global Public Health. [16] She is concerned by the rise of chronic disease , drug-resistant infection and funding for primary healthcare . She regularly contributes to the BBC World Service , CNN , Channel 4 News, and BBC Radio 4 . She is a member of Iyiola Solanke 's Black Professors Forum.
Her publications include:
The battle against hunger. Oxford University Press. 2008. ISBN 978-0199549962
Anthropologists Inside Organisations. Sage Publishing. 2008. ISBN 8178298864
Healthy Ideas: Improving Global Health and Development in the 21st Century. JoGH. 2014. ISBN 0993363814
Governing Global Health: Who Runs the World and Why?. Oxford University Press. 2017. ISBN 978-0190253271