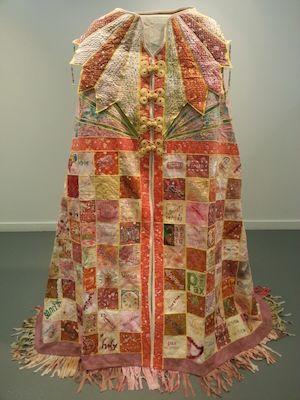 Holy Writ
This is a stunning sculptural textile which reflects on words important and in common to Judaism, Christianity and Islam.
This stunning sculptural textile is a stand-alone exhibition piece and was created as a community project in 2014 in association with the 'Holy Writ' exhibition in Lichfield.
This multi-faith project reflects on 10 words that are each important, and in common, to the three Abrahamic faiths. The 10 words selected were and translated into Hebrew, Greek, Latin and Arabic. Each participant chose one word, in one language/script, and worked that word onto a fabric square using a method of their own choice, for example, embroidery, collage and fabric painting.
The textile was designed by Hayley Brooks, a member of staff in the Art Department at South Staffordshire College in Lichfield at the time, in association with Lichfield Cathedral. Community groups in Staffordshire, North Warwickshire and North Birmingham took part in creating the work. Earthy colours were selected for the textile to represent the existence of all regions on this one Earth.
Just Festival is grateful to the Westhill Foundation for their generous loan of this textile.
Entrance to the exhibition is free, with a suggested donation of £7.