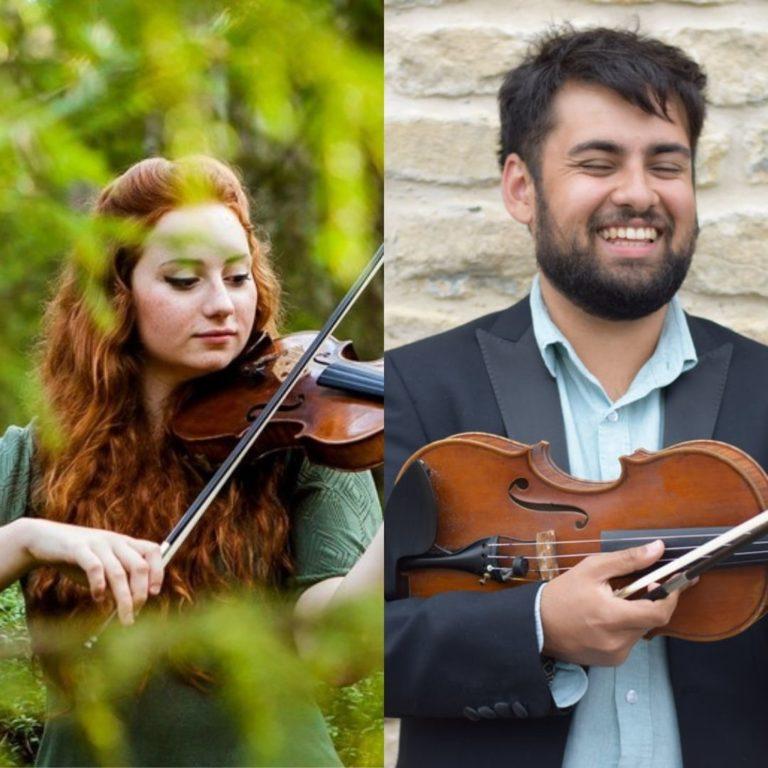 Penny James and Matt Tighe
Penny James and Matthew Tighe are a classical and traditional violin/fiddle duo located in Glasgow.
Penny James and Matthew Tighe are a classical and traditional violin/fiddle duo located in Glasgow. The pair studied classical music at Trinity Laban Conservatoire of Music and Dance, where in a sea of classical musicians they found each other through a mutual love of traditional Irish and Scottish music, which led to the formation of the duo in 2014.
Penny has a great passion for orchestral playing and is currently the leader of the London City Philharmonic and the co-leader of the Ernest Read Symphony Orchestra. Matt released an award-winning album in 2017 under the Greentrax label and is currently training to teach the Alexander Technique.
This concert is presented in partnership with Live Music Now Scotland. Following on from our successful partnership in 2022, Just Festival are delighted to be welcoming back musicians from Live Music Now Scotland to our stage. Live Music Now Scotland gives outstanding young artists the opportunity of performing at the start of their careers and enables high-quality live music to reach people throughout our communities, especially those who wouldn't normally have access to it.
Live Music Now Scotland puts on almost 600 concerts a year, with an ever-evolving pool of around 120 musicians, covering a diverse range of musical genres, delivering work in all of Scotland's 32 local authorities. Initially a branch of Live Music Now Ltd, the organisation devolved in 2013 to have its own charitable status and Board of trustees, bringing governance closer to home as activity continued to grow.
Hundreds of musicians have come through Live Music Now Scotland, and can now be seen in orchestras, ensembles, choirs, opera companies, recording studios and educational institutions, pursuing successful careers in the music profession. Alongside this, Live Music Now Scotland's expertise and understanding of how music is vital to emotional, physical and social wellbeing has grown over the years, and the organisation is well established and highly respected in this field.
Entry to this performance is free, with a suggested donation of £7.