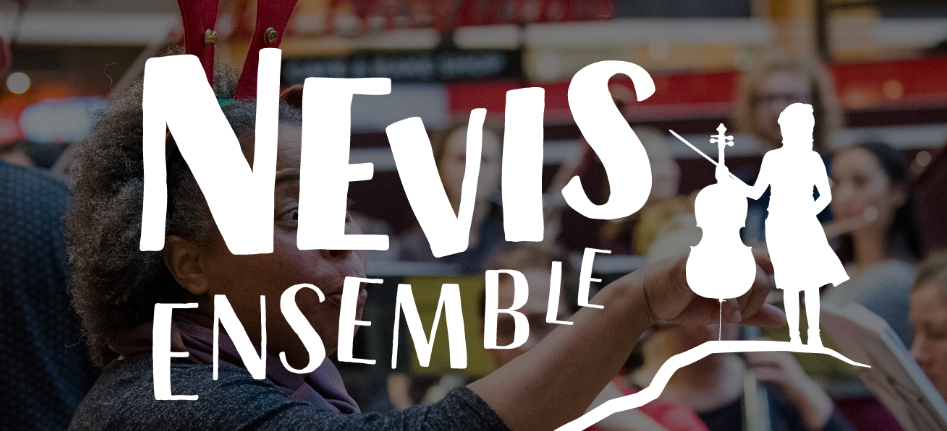 Nevis Ensemble: Lochan Sketches part 2
Nevis Ensemble: Lochan Sketches part 2
Nevis ensemble was founded in 2018, with a vision that music is for everyone, everywhere. Since its first performance, the orchestra has given almost 200 concerts to around 28,500 people all across Scotland, from the schools, supermarkets and museums of Glasgow, Edinburgh and Aberdeen, to a farm in the Scottish Borders and the summit of Ben Nevis in the Highlands – and everywhere in between, including the biggest ever tour by an orchestra of the Outer Hebrides – all the way out to the remote archipelago of St Kilda. Concerts have taken place in venues as diverse as swimming pools and children's parks, homeless centres, museums and train stations.
Nevis Ensemble was due to tour to four parts of Scotland in 2020 as part of the ScottishGovernment's Year of Coasts and Waters 2020. With all live orchestral performance on hold, particularly in remote and rural locations, which Nevis often visits, they wanted to still celebrate the year in some way. They have commissioned 10 composers to write short "Lochan Sketches" (a lochan being a small loch) written for a specific player in the Nevis Ensemble during a collaborative process. The third member of the creative process is the 'commissioner' of the piece, and Nevis Ensemble has approached 10 members of the public, including an NHS doctor, a family on Eigg, a couple running a distillery on Uist, a day centre manager from Dunoon, and a sea captain. Nevis visited the schools on Uist as part of their 2019 Tour of the Hebrides, so it has been nice to maintain a connection.
All ten pieces will be performed over two evenings at the 2022 Just Festival, marking the first time the suite has been performed live in its entirety.