Welcome to Just Festival, Edinburgh's human rights and social justice festival.

We are delighted to have opened up booking for our first show, from Canadian dance group Dance Fachin. The Fourth R is a powerful piece of contemporary dance and climate activism from Canadian group Dance Fachin. 

Combining compelling choreography, and thought-provoking video projections; The Fourth R: reduce, reuse, recycle, Revolutionize follows the story of three individuals: a consumer, an affluent worker; a producer, CEO of Bank of Russia; and a sufferer, an impoverished individual, vulnerable to natural disasters. Each of these characters' choices (and lack thereof) affect not only them but the physical world around them. Continuing Dance Fachin's mission to create impactful work, The Fourth R: reduce, reuse, recycle, Revolutionize questions the effects of capitalism on our environment.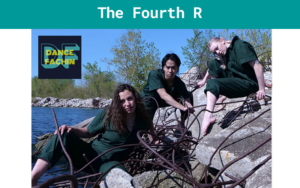 We'll announce our full programme on our website on Friday 30th June. In the meantime you can find out ways you can get involved.
In order to help us continue to programme innovative, engaging and diverse art and conversations in 2023 and beyond, we've set up a FringeMakers campaign. If you can, please consider making a donation.
The Just Festival creates a space for dialogue and platforms for engagement in local, national and international questions of social justice, equality and identity, both from the religious and non-religious perspectives. In line with the Universal Declaration of Human Rights, it celebrates humanity in all its differences, promoting the exploration of new perspectives with the aim of reducing religious, political and social intolerance.
We believe that through respect for each other's faith and belief, culture, philosophy and ideas, as well as each individual's right to self-expression and freedom, we can be part of the wider movement to establish a more united world. With these values in mind, we strive to promote a safe, inclusive and creative environment for everyone who is willing to engage with us to work together to foster understanding and respect.
Like many small arts organisations, the pandemic had a profound effect on our finances. We need your support to re-establish our reserves and support our core running costs so we can continue to plan festivals for future years!
I very much hope you can join us for Just Festival 2023.
Miranda Heggie, Festival Manager

---
Full list of 2023 Events
We work hard to make Just Festival accessible to everyone and, where possible, free to attend. We rely on your donations to continue sharing our message and debate around social justice and human rights. If you'd like to help us do this please donate to Just Festival today.